Mini Debconf 2012 - videos and feedbacks
A bit more than two weeks after the Mini Debconf in Paris, I am glad to say that the videos of the event are finally published (the sound is not very good for the 4 first presentations, sorry about that).
They will be also available on the new IRILL website with a video player when ready.
All slides are also available on the page of the event.
I believe that there is a consensus about the quality of the event. We had around 150 people attending to the event, many interesting and various talks.
As usual, it was nice to meet some old and new friends from Debian.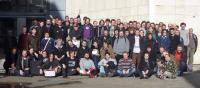 Group picture by Frederic Lehobey

For those who wonder, I am confident there will be a 2013 Parisian Mini Debconf.
Various feedbacks about the event:
Lucas Nussbaum
Stefano Zacchiroli
Vincent Untz
Raphael Hertzog
Pietro Abate
Logilab (Julien Cristau)
The 'official' Debian news
And, once more, many thanks to the sponsors!

Aucun commentaire pour le moment
Flux de commentaires pour ce post