Who is in control of LLVM/Clang ?
During my various chats and presentations on LLVM/Clang, one of the common criticism on LLVM/Clang is about the Apple's (supposed?) control on the platform.
Even if I am not concerned by this concern, here are some statistics about the development. Basically, I used the git history to build a list of all the author. If domain names were clear (ex: @google.com, @apple.com, etc), I used them for the paternity of the commit. If there were not clear (ex: @gmail.com, @me.com), I dig on the web to find the employer (Linkedin was my friend).
Of course, identifying individuals are pretty tough. Their percentages can be considered as a minimal figure.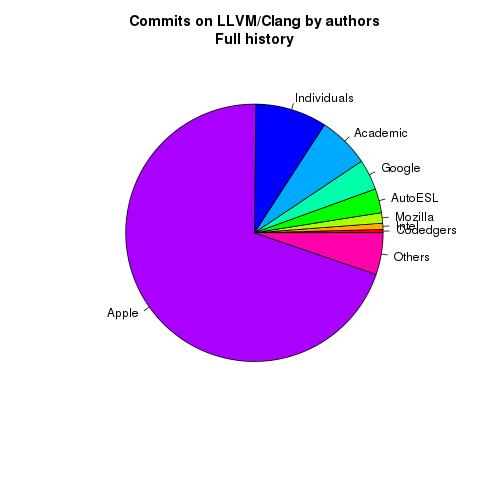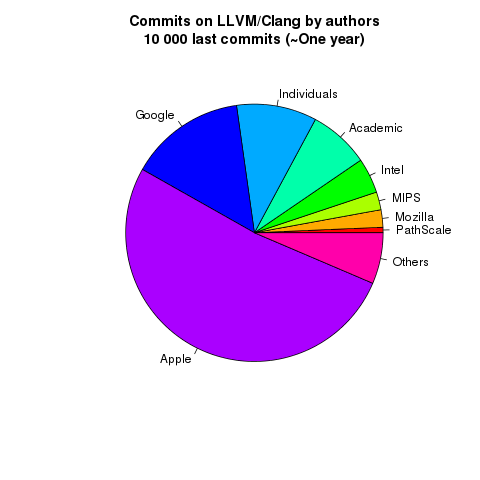 To sum up, we can easily see that the percentage of contributions of Apple is decreasing over the time.
However, we all know that the number of commits is not the best metric to measure the control of one on a project.
Source: Processed data (please contact me in case of mistake)
5 commentaires
Did you also account for change of employment for those @gmail, etc.?
23.07.12 @ 00:13
Commentaire
de:
Sylvestre
[Membre]
No, I didn't. I am using the email addresses registered in the LLVM VCS.
23.07.12 @ 00:29
What is your point? LIcense is owned by U of Illinois Code owners are all employed by Apple. None of the Google employees have contributed any significant code aside from Richard Smith. Apple also owns WebKit tradmark, OpenCL, libdispath, Objective C. Once again what is your point?
23.07.12 @ 01:34
The desperation in your voice is funny point.
I think you know perfectly well what the point is and your response proves it is valid!
23.07.12 @ 03:21
I think that the number of commits is multiplied by 3.
Also, "Eli Friedman" is with Apple. "Owen Anderson" is with Apple. "Bruno Cardoso Lopes" is academic, AFAIK. "Reid Spencer" did most of his work before joining AutoESL (which is now Xilinx, I think).
23.07.12 @ 11:58
Flux de commentaires pour ce post