Guake: New in Debian
Thanks to my great & usual sponsor, I have uploaded a new package into Debian (therefore in Ubuntu)
This package is a drop-down terminal for Gnome. Drop-down means basically the ² key in Quake 2 (where it takes his name). Just press the F12 key and quickly, your terminal will be displayed. Press it again, it disappears.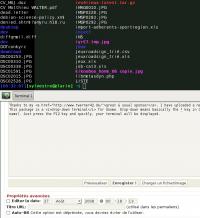 Screen of Guake over a Firefox

No feedback yet
Comment feed for this post